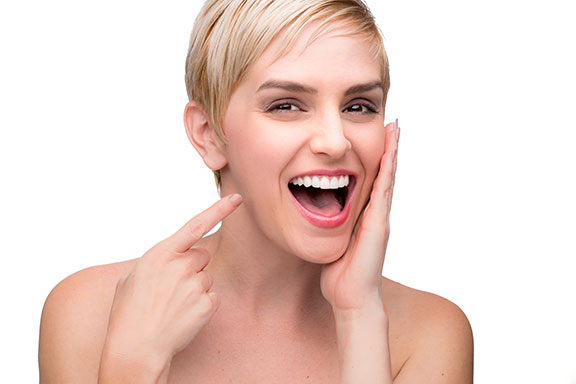 Veneers are thin sheaths of dental grade porcelain used to correct and conceal cosmetic smile flaws. Like any dental treatment, they're not right for everyone. If you're looking to transform damaged, flawed teeth into a picture-perfect smile, schedule a cosmetic dentistry consultation with a dentist to learn more about porcelain veneers and other services that can help you achieve your goals.
Who Should Consider Porcelain Veneers?
Anyone who wants one simple treatment to achieve a dramatic change in their appearance. Take into consideration a few hypothetical patients who might want porcelain veneers:
Fluorosis Frank – Frank, unfortunately, ingested too much fluoride as a child. That led to the bright white spots on teeth that's called fluorosis. In order to create even coloring across his smile, we may recommend porcelain veneers.

Grandma Great Smile – Grandma always had a great smile, but years of daily wear and tear lead to numerous small flaws and yellow coloring due to thinning tooth enamel. Porcelain veneers can restore Grandma's youthful smile without unnecessary stress or discomfort.

Carrie Crooked Teeth – Carries front teeth are turned slightly inward, but her bite fits together and functions well. Rather than investing in orthodontic treatment, we can conceal this flawed tooth position behind veneers.
What is the Veneers Process Like?
Veneers are placed in two appointments. During the first visit, we'll prepare teeth, design the porcelain veneer, and place a temporary. When we receive the veneer from our lab, you'll return to exchange your temporary for a custom-crafted porcelain veneer and a flawless smile.
How do I Care for my Porcelain Veneers?
Once you've completed the porcelain veneers placement process, caring for your smile will not change dramatically. You'll still need to brush and floss as usual. However, you may need to switch to a softer bristled toothbrush and less abrasive toothpaste to avoid wearing away at the veneers. Unlike natural tooth enamel, porcelain veneers are stain resistant. That means they'll retain their brilliant white hue much longer than natural tooth structure.
Meet the Team
At Vanderbrook Family Dentistry, we're dedicated to helping our patients feel more comfortable and confident in every dental procedure we offer. Our blog is a great resource for patients who are trying to learn more about specific services or just stay up to date on the latest happenings around our Dallas dental office. If you have questions or want to schedule an appointment with our caring dentistry team, please contact us. We look forward to seeing you and your family soon.