Invisalign® Clear Braces from Your Dallas Dentist
Do you dream about having a smile full of sparkling, straight teeth, but you just can't imagine yourself wearing traditional metal braces? You've probably invested in a professional, mature image, and you shouldn't have to look like a teenager to straighten your teeth. With Invisalign clear braces, your dreams can come true without enduring the nightmare of one or more years with a metallic smile.
What is Invisalign®?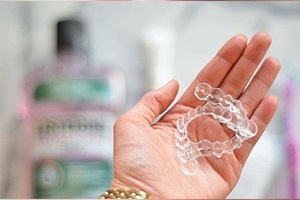 Invisalign® is an orthodontic treatment approved by the FDA and is a virtually invisible method for straightening teeth without conventional metal braces. With Invisalign, a custom-molded series of transparent, removable aligners progressively reposition your teeth. You simply remove the aligners before eating, brushing, flossing, or even during special occasions to maintain the diet and lifestyle you prefer. This technology is more comfortable and convenient than traditional braces. Patients do not experience the mouth abrasions caused by metal brackets and wires, and Invisalign aligners are easy to clean. This is especially important for those patients who have sensitivities to metal. Adjustment appointments aren't necessary, either. Simply visit once every six weeks or two months so we can ensure your smile is progressing as planned and make adjustments to your treatment plan whenever necessary.
How does Invisalign® work?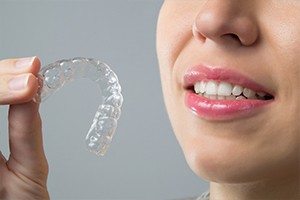 At your first appointment, we use 3D computer imaging to design a comprehensive treatment plan. This allows you to preview the final positioning of your teeth before you start treatment. Yes, you will see your future smile before treatment begins! Then, an Invisalign lab creates a series of aligners to reposition your teeth which can take anywhere from between a couple of months to two years. You'll exchange aligners every two weeks until your smile is straight and beautiful. Treatment is typically completed after 6 to 18 months. Transparent, removable, no-hassle orthodontia – now that should put a smile on your face!
Additional Benefits of Invisalign® Compared with Traditional Orthodontics
Patients save time over the course of treatment with less frequent, shorter office visits that are easier to fit into busy schedules.
Patients with sensitivities to metal are able to align their smiles comfortably without the risk of an adverse response.
Patients don't need to change their diet or oral hygiene routines – simply remove the alignment trays during meals and cleanings.
Invisalign® aligners are virtually invisible to the untrained eye, so patients maintain their beautiful smile throughout treatment.
Patients report experiencing less discomfort with Invisalign® aligners when compared to traditional bracket and wire braces, both due to the lack of soft tissue irritation and less pain associated with the shifting teeth.
Advances in Invisalign® technology make it possible for patients to correct even severe bite alignment issues (like overbites or underbites), which were previously only treatable with traditional braces.
Understanding the Cost of Invisalign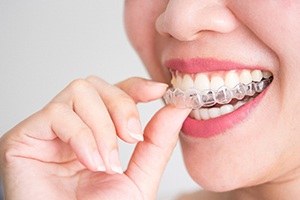 The cost of Invisalign in Dallas varies from case to case. We'll be able to provide you with an estimate when you visit us for your consultation. In general, the price is in the same ballpark as traditional orthodontics. Our team will do everything we can to help you navigate the financial aspects of your treatment.
Invisalign FAQs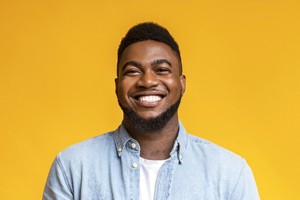 Are you excited to finally have a straightened smile that you feel proud to show off? The buildup to receiving your first set of Invisalign aligners has probably had you questioning what it's going to be like living with your removable trays. For your convenience, we've answered some common questions we receive below so you won't have a thing to worry about.
Does it hurt to wear Invisalign aligners?
Some patients worry that wearing their Invisalign aligners will have them in constant discomfort. Fortunately, that's not the case. Each set of trays is custom-made out of smooth plastic to fit your mouth without causing you pain, unlike traditional metal braces, which are known for causing oral irritation, cuts, and bumps on the inside of your mouth.
Many patients report experiencing some tenderness and slight discomfort when they advance to a new set of aligners, but this only lasts for about a day. To help ease this, you can switch to your new trays at night, so you sleep through a majority of the adjustment period. You can also take over-the-counter pain medication to help as well.
How often do I need to wear my aligners for?
Wearing your aligners is crucial to achieve the results you want. Even though they can be tempting to take out of your mouth because they're easily removable, it's important to only take them out when you eat or brush and floss. Otherwise, you'll need to wear them every day for 20 to 22 hours in order to stay on track with your treatment timeline.
After each time you take them out, be sure to set a reminder to put them back in. It can be easy to forget to do this, especially when you're just starting out your treatment and aren't used to having them in your mouth all of the time.
What happens if I damage or lose an aligner?
If you damage or lose an aligner, don't panic! This is more common than you may think, and your dentist won't judge you. Be sure to follow these three steps to make sure that you stay on track with your treatment:
Don't advance to the next aligners in your series yet. Advancing too early may cause issues down the road, so it's important to get your dentist's recommendation before you make any rash decisions.
Schedule an appointment with your dentist so you don't fall behind in your treatment.
Act quickly to prevent the situation from becoming more stressful.
How should I clean my aligners?
Since your aligners are removable, it's pretty easy to clean and sanitize them. It's important to do this daily to prevent oral health problems from developing due to bacteria buildup or food debris getting trapped between your teeth and aligners while you're completing Invisalign in Dallas. Here are some basic maintenance tips:
Always rinse your aligners before you put them in your mouth.
Sanitize your aligners every day for 15 minutes in a 50/50 mixture of vinegar and water or Invisalign cleaning solution.
Clear your trays of bacteria and food debris regularly by using a soft-bristled brush and clear antibacterial soap.
If you have any questions about taking care of your aligners, don't hesitate to contact our office!
Contact Your Dallas Cosmetic Dentists
If you're interested in finding out more about cosmetic orthodontic treatment in the Dallas area, contact Vanderbrook Family Dentistry to schedule an orthodontic consultation. Invisalign® isn't right for every patient, but thanks to continuing improvements in materials and technology, alignment tray orthodontic systems help more patients than ever achieve their smile goals.