Children's Dental Care in Dallas
<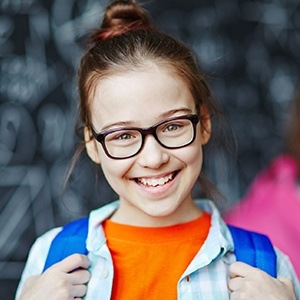 At Vanderbrook Family Dentistry, our team of professionals will go above and beyond to ensure your little one maintains a healthy smile as they grow and develop. Although children are more often prone to developing cavities early on, preventive solutions provided by our qualified team will help to combat these problems and put their oral health back on track! Offering a multitude of children's dentistry services, Dr. Vanderbrook will combine his knowledge, expertise, and kind and compassionate demeanor to deliver outstanding results that will have your child enjoying decay- and disease-free teeth and gums well into adulthood. To request an appointment or inquire about our available services, contact us today!
When to Bring Your Child in for Their First Visit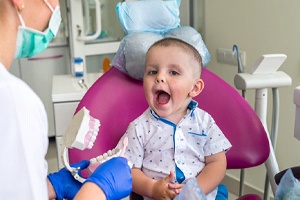 Typically, it is customary to bring your child in for their first dental visit by the time their first tooth erupts or by their first birthday. These primary teeth serve such a vital purpose to the future of their smile, which is why we suggest regular six-month visits to ensure their teeth are developing according to plan and there are no problems as they pertain to decay or disease, or their ability to speak or eat.
What You Can Expect During the First Visit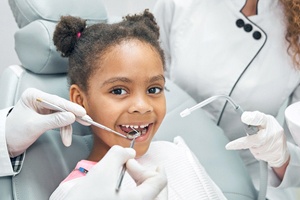 If you choose to bring your child in before their first birthday, you can expect the appointment to be focused more on become familiar with proper oral hygiene habits and making sure their teeth are erupting without problems. This initial visit can serve a valuable purpose, especially when trying to curb any possible fears or anxiety. As children grow older, they may be more apprehensive about seeing the dentist, which is why we encourage these early visits.
Typically, during a kid's checkup, Dr. Vanderbrook will look inside your son or daughter's mouth for developmental issues or tooth decay. If the child is old enough, our hygienist will gently clean his or her teeth. We'll spend 30 minutes talking with you and your child about dental health, including the dangers of sugary beverages and cereals. The more you understand about how to care for young teeth, the healthier your child's smile can be here in the Dallas area!
Kid-Friendly Services Available in Our Office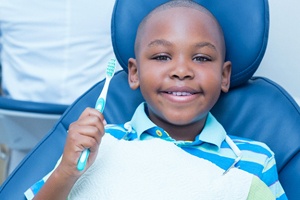 Each child is different. Depending on their individual needs and ability to care for their oral health at home, we are pleased to offer the following kid-friendly services in our Dallas office:
Dental checkups and cleanings
Fluoride treatments
Dental sealants
Oral cancer screenings
Bruxism therapy
Dental crowns
Tooth-colored fillings
TMJ Therapy
Emergency Dentistry
At-Home Tips for Improved Oral Health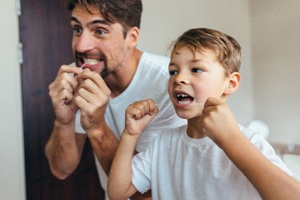 While regular six-month dental checkups and cleanings are an important part of any oral hygiene routine, there are additional at-home tips you can use to ensure your child's smile remains in tip-top shape year-round:
Make sure they are brushing their teeth twice daily for two minutes using a soft-bristled toothbrush and fluoride toothpaste
Ensure they are flossing between their teeth before going to bed
Avoid giving your child too many sugary or starchy foods/snacks
Make sure they're drinking plenty of water and limit their juice/soda intake
Have a customized mouthguard created for use when playing sports or if they suffer from bruxism (teeth grinding)