Dental Implants – Dallas, TX
Creating Permanent, Longer-Lasting Smiles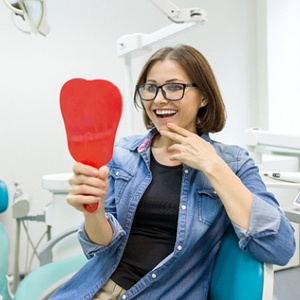 Dental implants in Dallas are allowing patients to rethink the way they smile. For individuals with missing teeth along the top or bottom arch (or both), these unique titanium posts make it possible to embrace a permanent, longer-lasting, more beautiful smile. Instead of relying on traditional tooth replacement solutions that often require frequent replacements, Dr. Drew Vanderbrook and his team can improve your oral health, boost your confidence and appearance, and give you a real reason to smile again. To learn more about dental implants or to schedule a consultation, contact us today.
What are Dental Implants?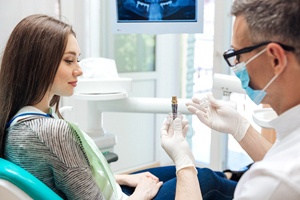 Dental implants are small titanium posts that mimic the natural tooth root. Surgically placed into your jawbone, they support a custom-made restoration (i.e. dental crown, bridge, denture) and replicate the structure of your missing tooth. Because of its placement, the implant fuses to the bone and surrounding tissue over time in a process known as osseointegration and becomes a permanent fixture within your oral cavity. This allows you to eat and speak with greater confidence as well as enjoy restorations that look and feel like regular teeth.
The 4-Step Dental Implant Process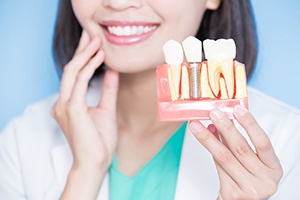 Dental implants have unique benefits, so they require a multi-step process that spans several months. This may seem like a while, but it is well worth the time and effort. We are partnered with trusted specialists in the DFW area to ensure that your procedure goes as smoothly as possible. Every treatment process is different, but here are the 4 main steps that you can expect when you get dental implants.
Benefits of Dental Implants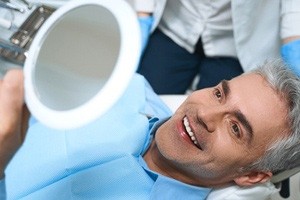 When learning more about dental implants, it is hard to overlook the many benefits they offer to patients with missing teeth. You likely want a solution that will not only give you enhanced aesthetics but will also keep your oral health from declining. Fortunately, implants are a great way to address both issues while allowing you to experience far more than you think. Below, you will find a thorough list of the many benefits of dental implants:
Indications for Dental Implants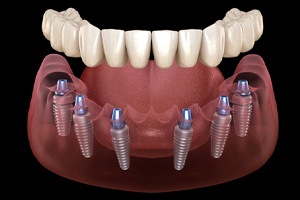 Another added benefit of dental implants is they are versatile. Whether you have one missing tooth, multiple, or an entire arch, they can repair and restore your smile in a way that other solutions cannot.
Missing Single Tooth
If you are only missing a single tooth, your dentist in Dallas can use one titanium implant and metal abutment before having a customized dental crown created to sit on top of the post.
Missing Multiple Teeth
If two or more teeth are missing consecutively in a row, there's no need to worry. We can recommend you receive two dental implants that will sit on the outer vacated sockets. Once your custom bridge is created by lab technicians, we will carefully secure it to the implants, filling in the gap and allowing you to enjoy a healthier smile.
Missing All Teeth
When faced with an entire arch of missing teeth, don't assume traditional dentures is all you'll be eligible to receive. Instead, an oral surgeon can place 4-6 dental implants along your jawbone to create a firm foundation for a customized denture. Instead of worrying about dental adhesives to keep your restoration in place, you can feel more confident knowing your denture is secured to the tops of your implants.
Partners with Trusted Professionals in the DFW Area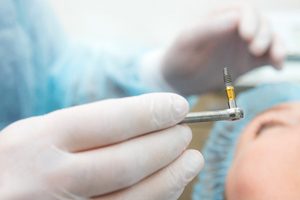 Dr. Vanderbrook wants your experience in receiving dental implants to be a success. This is why he partners with only the best in the DFW area. From trusted periodontists to highly-skilled oral surgeons, he will work closely to ensure your procedure is successful. Once your implants are in place and you've finished recovering at home, you will return to our dental office to receive your finalized restoration.
Understanding the Cost of Dental Implants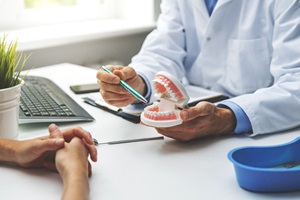 Dental implant costs vary from case to case. Replacing a single tooth may cost a few thousand dollars, while full-arch replacement may cost anywhere from $35,000 to $60,000. Those numbers may seem steep at first, but it's important to consider long-term costs. Dental implants in Dallas have the potential to last a lifetime, which means they may actually be cheaper over time than non-implant options that need to be replaced every few years. Plus, they offer remarkable benefits that are impossible to assign a monetary value to.
Maintaining & Caring for Your Dental Implants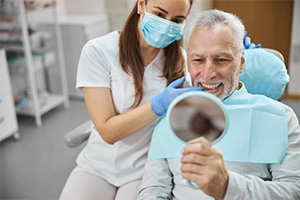 Now that you've successfully received your dental implants, you'll be able to make the most of the numerous benefits of your new smile. Still, this doesn't mean you won't have to do much to keep them in great shape. If you wish to keep them healthy and effective for a lifetime, you'll need to implement several precautions and make a few changes to your daily life. Here are a few ways to maintain and care for your dental implants.
Dental Implant FAQs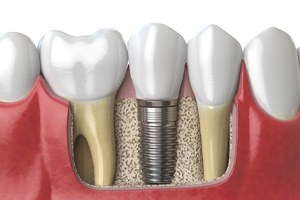 When it comes to creating permanent, longer-lasting smiles, there's simply no better choice than dental implants in Dallas! However, it's only natural to have some questions about this revolutionary tooth replacement option before you're ready to commit to a treatment plan. We'll be more than happy to answer all your questions and walk you through every step of the procedure when you come visit us for your consultation. In the meantime, we've gathered a few of the most common questions we get about dental implants below so you can learn more about them. To find out more or schedule your consultation, don't hesitate to give us a call!