Teeth Whitening Treatments in Dallas
Want to turn heads with a beautifully white smile? Good news! Dr. Vanderbrook offers powerful in-office Opalescence Boost treatment and professional-strength Opalescence teeth whitening kits for patients who'd like brighter teeth. Opalescence produces premier, highly regarded whitening products that are safe, effective, and customized by Dr. Vanderbrook for each patient.
In-Office Teeth Whitening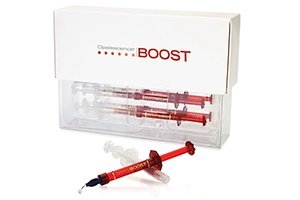 With a chemically activated formula that needs no heat or ultraviolet rays from a light to be effective, Opalescence Boost allows Dr. Vanderbrook to provide optimal whitening results and patient comfort. Opalescence Boost also reduces tooth sensitivity and strengthens enamel with the addition of potassium nitrate and fluoride in the whitening gel. Don't think a whitening appointment can fit into your schedule? A refreshed look could be yours sooner than you think: Opalescence Boost delivers a dramatically whiter smile in about an hour. To maintain in-office results, use Opalescence at-home whitening as needed.
At-Home Teeth Whitening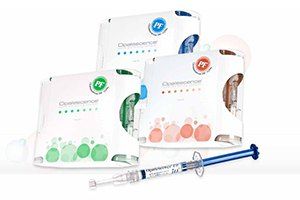 Opalescence teeth whitening kits from Dr. Vanderbrook's office have a higher concentration of carbamide peroxide than over-the-counter whitening kits. Prescription-strength Opalescence Take Home Whitening Gels are available in several formulations; Dr. Vanderbrook will determine the appropriate type for your needs. When you choose Opalescence to transform your smile, Dr. Vanderbrook will take impressions of your mouth and fabricate a custom tray that will deliver professional-grade whitening gel to your teeth. The tray will be yours to keep, so you can refresh your smile as needed with another quick treatment.
Benefits of Opalescence teeth whitening kits include:
Convenience
Customization
Flexible treatment time
Reduced potential for sensitivity
Along with the proper whitening materials, Dr. Vanderbrook will also provide a list of recommended whitening session lengths. The amount of time and the frequency with which you use the tray and gel will determine how gradually results will appear. With proper use, the Opalescence kit yields a dazzling smile in the comfort of your home.
Contact Us to Learn More About Your Options
To find out more or to schedule your appointment, call our office today. One-hour in-office whitening with Opalescence Boost or simple and effective Opalescence tray-delivered whitening can restore your smile's youthful glow.
Teeth Whitening FAQs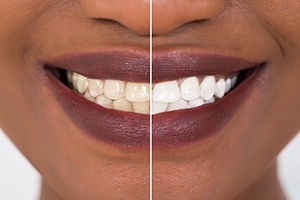 Do you have questions about teeth whitening in Dallas? If so, you're not alone. Whether you choose in-office or take-home kits, knowing how to blast away stains and maintain your results safely and effectively often requires thorough discussions with your cosmetic dentist. Fortunately, Dr. Vanderbrook is here to provide the answers to some of the most commonly asked questions regarding teeth whitening so you can feel more at ease and be willing to move forward with treatment. If you have any additional questions, however, please do not hesitate to contact our office.