Porcelain Veneers – Dallas
Transform Dental Flaws Into a Beautiful Smile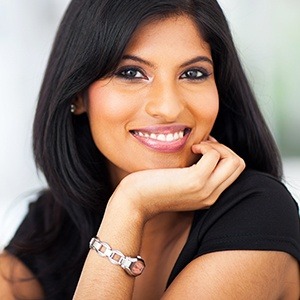 Your smile has the potential to wordlessly communicate a message of happiness, friendship, and love. That's why the appearance of your smile is so important to Dr. Vanderbrook and his team. We want you to feel comfortable with and proud of the smile you share. However, if your smile makes you feel self-conscious, then porcelain veneers may solve that problem. Porcelain veneers are a dental cosmetic treatment that conceals damaged teeth in order to transform patients' smiles comprehensively.
What Are Porcelain Veneers?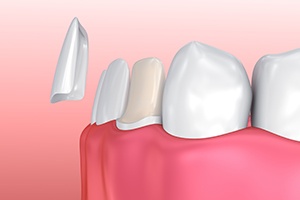 Porcelain veneers – sometimes called dental veneers – are solid coverings made of high-quality dental porcelain or composite resin materials that are adhesively bonded to your teeth. While veneers are indeed solid and strong, they are also very thin and highly translucent, making your smile look completely natural.
What Can Porcelain Veneers Correct?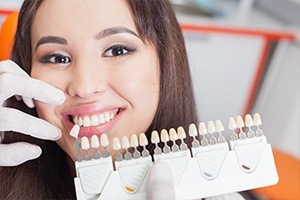 Veneers are designed to correct and conceal a number of smile flaws that run the gamut from structural imperfections to cosmetic distractions. These include:
Teeth that are proportionally smaller than others
Misshaped teeth
Fractured teeth
Chipped teeth
Stained and discolored teeth that have not responded to teeth whitening
Slightly misaligned teeth
Teeth that have gaps between them
What Does It Take to Have Veneers?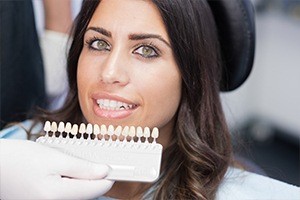 The first step on the road to a new smile is a consultation with Dr. Vanderbrook. At this meeting, the two of you will discuss the changes you'd like to see in your smile. We'll also take measurements of your mouth, as well as digital X-rays, photographs, and molded impressions of your teeth. With this information, Dr. Vanderbrook can artistically design veneers that fit precisely and complement your facial features.
Then, it's time to build your new smile. The process begins with an appointment to prepare your teeth for veneers. A slim layer of enamel is removed from your teeth; this permanent alteration ensures that your veneers are in line with your other teeth and do not look too large for your mouth. Based on an impression, we create temporary veneers to protect your newly prepared teeth while the permanent set is handcrafted in a dental lab.
In two short weeks, your customized smile will be ready and you'll return to our office to have Dr. Vanderbrook bond the permanent veneers to your teeth.
Caring for your new smile requires a little bit of TLC. You'll want to avoid using your veneers to bite anything hard. Porcelain veneers are strong, but they are not unbreakable. With proper care, veneers can last for years and years.
Understanding the Cost of Veneers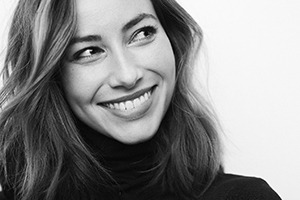 If you're looking to say goodbye to the imperfections that are plaguing your teeth, veneers are an excellent way to achieve your smile goals, especially if you want that Hollywood look! But it's important to remember that the cost of veneers in Dallas is not the same for everyone. Each patient is different. Depending on a few different factors, you may pay more or less for your cosmetic treatment. Also, when it comes to these customized restorations, you get what you pay for, so quality is important. As you consider how you want to transform your appearance, you'll want to make sure you're choosing the right cosmetic service for your specific goals.
Porcelain Veneer FAQs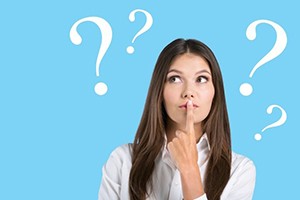 Porcelain veneers in Dallas are a truly unique cosmetic dental service. Since they permanently alter your teeth, its important that you feel completely confident in your decision. For your convenience, we've gathered the most common questions we get about this popular cosmetic treatment below. If you don't see the answer you're looking for, don't hesitate to call us and we'll be happy to help!
How Many Porcelain Veneers Will I Need?
You can choose to cover just a single tooth with a porcelain veneer. However, we often recommend using veneers for the front two, four, six, or eight teeth to attain the most natural-looking results. During your consultation, your Dallas cosmetic dentist will carefully assess your smile and discuss your goals to determine how many veneers you'll need to achieve your desired results.
Does It Hurt to Get Porcelain Veneers?
Improving your pearly whites with porcelain veneers is a virtually pain-free experience. They're only about as thick as a contact lens, so hardly any enamel will need to be removed in order to place them. This process is quick and comfortable—in fact, you may not even need local anesthetic. Initially, your teeth may feel somewhat sensitive once your veneers have bonded in place, but any discomfort can be easily managed with over-the-counter pain relievers before it subsides within just a few days. Before you know it, your porcelain veneers will feel like a natural part of your smile!
How Long Do Porcelain Veneers Last?
Despite how thin porcelain veneers are, the materials they're crafted from ensure that they're incredibly durable. However, there are a handful of bad habits that can wear away at your veneers and cause them to lose their luster or even their grip. On the other hand, you can easily keep your smile dazzling and strong for a decade or more with the proper care. To extend the lifespan of your porcelain veneers, keep these simple tips in mind:
Brush your teeth with a soft-bristled toothbrush and nonabrasive toothpaste for two minutes twice a day.
Choose high-quality, waxed dental floss to easily clean between your teeth every day.
Wear a sports guard if you play sports.
Don't use your teeth to open packages, containers, or bottles.
Stop chewing on hard objects like pen caps, ice, or your fingernails.
If you grind your teeth at night, protect them with a custom nightguard.
Visit your Dallas dentist twice a year for routine checkups and cleanings.
How Much Do Porcelain Veneers Cost?
Just like how no two smiles are the same, there is no one-size-fits-all approach when it comes to cosmetic dentistry. The cost of your unique treatment will depend on several factors like the number of teeth you're treating and if you need any preliminary dental work like gum disease therapy. We'll be able to provide you with a custom estimate and go over any other additional questions you may have during your initial consultation.
Ready to say goodbye to your chipped, cracked, and stained teeth? Call Vanderbrook Family Dentistry today to schedule your consultation and start your journey towards the smile you've always wanted!