Dallas Smiles with Porcelain Veneers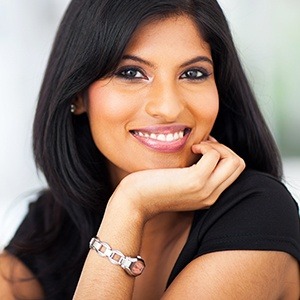 Your smile has the potential to wordlessly communicate a message of happiness, friendship, and love. That's why the appearance of your smile is so important to Dr. Vanderbrook and his team. We want you to feel comfortable with and proud of the smile you share. However, if your smile makes you feel self-conscious, then porcelain veneers may solve that problem. Porcelain veneers are a dental cosmetic treatment that conceals damaged teeth in order to transform patients' smiles comprehensively.
What Are Porcelain Veneers?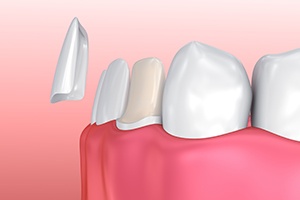 Porcelain veneers – sometimes called dental veneers – are solid coverings made of high-quality dental porcelain or composite resin materials that are adhesively bonded to your teeth. While veneers are indeed solid and strong, they are also very thin and highly translucent, making your smile look completely natural.
What Can Porcelain Veneers Correct?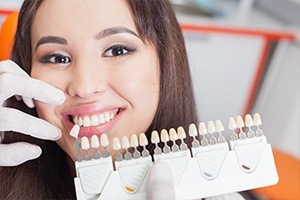 Veneers are designed to correct and conceal a number of smile flaws that run the gamut from structural imperfections to cosmetic distractions. These include:
Teeth that are proportionally smaller than others
Misshaped teeth
Fractured teeth
Chipped teeth
Stained and discolored teeth that have not responded to teeth whitening
Slightly misaligned teeth
Teeth that have gaps between them
What Does It Take to Have Veneers?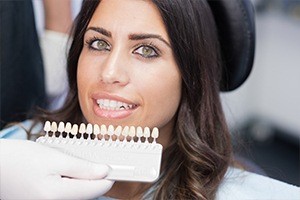 The first step on the road to a new smile is a consultation with Dr. Vanderbrook. At this meeting, the two of you will discuss the changes you'd like to see in your smile. We'll also take measurements of your mouth, as well as digital X-rays, photographs, and molded impressions of your teeth. With this information, Dr. Vanderbrook can artistically design veneers that fit precisely and complement your facial features.
Then, it's time to build your new smile. The process begins with an appointment to prepare your teeth for veneers. A slim layer of enamel is removed from your teeth; this permanent alteration ensures that your veneers are in line with your other teeth and do not look too large for your mouth. Based on an impression, we create temporary veneers to protect your newly prepared teeth while the permanent set is handcrafted in a dental lab.
In two short weeks, your customized smile will be ready and you'll return to our office to have Dr. Vanderbrook bond the permanent veneers to your teeth.
Caring for your new smile requires a little bit of TLC. You'll want to avoid using your veneers to bite anything hard. Porcelain veneers are strong, but they are not unbreakable. With proper care, veneers can last for years and years.