Dentures – Lakewood, TX
Giving Your Smile the Restoration It Deserves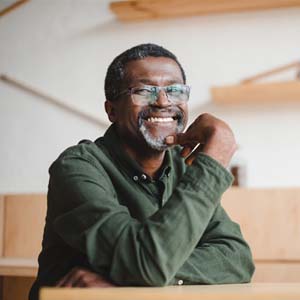 According to the American College of Prosthodontists, nearly 36 million people in the United States do not have any natural teeth left. The Centers for Disease Control and Prevention (CDC) states that about 1 in 6 (17%) of adults 65 years of age and older have lost all their teeth. Tooth loss is certainly not something you should take lightly or put off when it comes to treatment. Eating, speaking, and smiling can become increasingly difficult the longer you wait to see a professional, which is why Dr. Drew Vanderbrook and his team are here to provide dentures in Lakewood to restore your smile. Whether it is a partial or full denture you need, or you prefer a more stable solution like an implant denture, we have the right restoration option for you. Contact us today to find out if you are a good candidate for dentures.
Who is a Good Candidate for Dentures?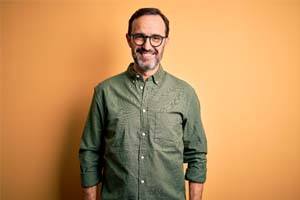 The only way to know for sure if you are eligible to receive dentures is to schedule a consultation with your dentist in Lakewood. It is during this visit that he will consider the health of your gums, your general overall health, and how much of your jawbone remains to support a customized prosthetic. If he is pleased with his findings, the next step will be to determine which type of denture you need. Partials help to replace multiple missing teeth along an arch while full dentures replace an entire row of missing teeth. Of course, there is the option to choose implant dentures, which are considered the gold standard for tooth replacement.
Ultimately, a treatment plan will be created that matches your smile goals, and you can expect Dr. Vanderbrook to go over all the detailed information so you know what to expect from the process, how much it will cost, and how you can live more comfortably with dentures.
What Are the Different Types of Dentures?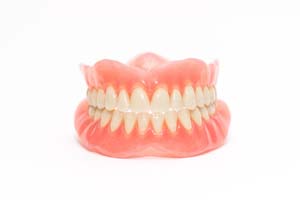 Depending on how many teeth are you are missing and the status of your oral and overall health, Dr. Vanderbrook will recommend one of the following three options:
Partial Dentures
Formed using a gum-colored, acrylic base and artificial teeth made of porcelain or acrylic, a partial denture uses metal clasps that attach to healthy abutment teeth to remain in place. Working much like a puzzle piece, this unique prosthetic allows you to replace multiple missing teeth along an arch. Whether they are sitting next to each other or scattered along the row, a partial can easily blend in with the rest of your smile and offer greater functionality once in place.
Full Dentures
When an entire row of teeth is missing, a suitable solution is to receive a full denture. Those made for the upper arch are created to cover the roof of the mouth; however, those designed for a lower arch are made in the shape of a horseshoe to make room for your tongue. Full dentures are crafted using the same gum-colored acrylic base and artificial teeth as a partial. The only difference is that full dentures rely on your natural suction to stay in place, as they sit on top of the gums.
Implant Dentures
If the idea of a traditional prosthetic doesn't leave you feeling too confident, you can also opt for implant dentures. Held into place using between 2 and 8 dental implants, these superior tooth replacements use titanium posts that are surgically placed into your jawbone for greater stability. Fusing with your jawbone, they create a foundation for your customized denture when ready for placement. Not only do implant dentures offer a more reliable and stable solution, but you can expect improved functionality and a prosthetic that lasts 30 years or more with regular care.
Benefits of Dentures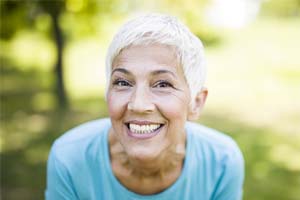 Dentures have been helping people take back their smiles for centuries. While the materials used to create them have drastically changed (thankfully), their ability to add functionality and create whole, complete smiles remains the same. In choosing these prosthetics to replace your missing teeth, you can expect to enjoy many great benefits, such as:
Greater confidence in the way you look and a more natural-looking appearance
A more youthful aesthetic because of how your dentures fill out your face
The ability to speak clearly
Eating some of your favorite foods that are full of healthy nutrients
Prosthetics that are designed to last 5-10 years with proper care (partial and full dentures) or ones that will last 30 years or more (implant dentures)
Prosthetics that will stimulate your jawbone and prevent shrinking over time (implant dentures)
Understanding the Cost of Dentures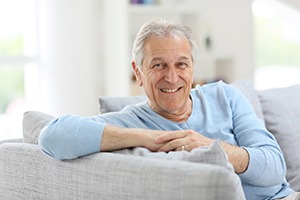 From the types to the benefits, the above information is designed to help patients like you determine if dentures are the best tooth-replacement solution. At this point, you may be wondering, "But how much do they cost?" Sadly, there is no one-size-fits-all answer since each one is custom-made. Don't worry though – there are a few factors that will play a role in the price across the board, which we will be discussing below!