Meet Your Dallas Dentist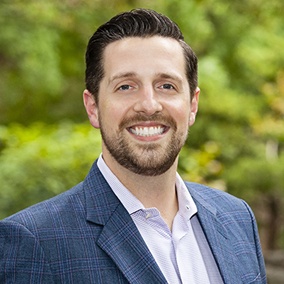 Drew Vanderbrook, DDS
When did you decide to become a dentist?
When Dr. Vanderbrook was just a little kid, he regularly saw an amazing pediatric dentist who helped him feel very comfortable during appointments. Those early positive experiences helped him develop a keen interest in the dental field, and once he was old enough to look into the career, he decided it was right for him!
Where did you go to school for dentistry?
Dr. Vanderbrook was born and raised in Mandeville, Louisiana, right outside of New Orleans. After working as a pharmacy technician throughout college, he chose to keep that job while starting to attend Texas A&M University. He earned his Bachelor of Arts degree in Biology and a Business minor, graduating with honors.
Once his undergraduate studies were finished, it was time to pursue his Doctor of Dental Surgery at Baylor College of Dentistry. During this time, Dr. Vanderbrook participated in the Department of Biomedical Science as a student researcher. Additionally, he was elected by his peers to serve as his dental school class president, student council president, and a representative for the Honor Council. Following dental school, he chooses to keep his skills sharp with regular continuing education courses at prestigious organizations like the Spear Center for Dental Excellence in Scottsdale, AZ. He is also working on completing his Fellowship in the Academy of General Dentistry.
Today, Dr. Vanderbrook is proud to have been awarded the New Dentist of the Year award by Dallas County Dental Society – an honor given to an outstanding dentist in Dallas who has graduated within the last ten years. He was also nominated for the Texas New Dentist of the Year award in 2015. Dr. Vanderbrook was elected and currently serves on the Board of Directors for Dallas County Dental Society. He continues to hold membership in the following organizations:
Dallas County Dental Society
Texas Dental Association
American Dental Association
Texas Academy of General Dentistry
When you're not busy improving smiles, what do you like to do?
Outside of dentistry, Dr. Vanderbrook loves spending time with his family and friends and cheering on Texas A&M and Dallas area sports teams. He actually met his wife Heidi in high school, who graduated from the University of Texas in Austin, completed a Master's program, and is now a Family Nurse Practitioner. Together, they have a beautiful daughter and son. They also spend time outside of work as parishioners at St. Thomas Aquinas Catholic Church.