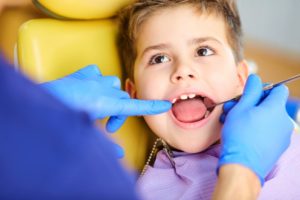 February is the month when we celebrate love. But did you know that February is also National Children's Dental Health Month? It's a great time to make sure you're teaching your children how to care for their teeth. But why should you care about whether their baby teeth are healthy? Why is it important to take your child to the dentist twice a year if you brush their teeth at home? Answer all these questions here with advice from your family dentist.
Why do I need to take care of my child's baby teeth?
Maybe it is hard to gather motivation to care for your child's baby teeth. They're going to come out anyway, right? Although your child will eventually lose them, they serve many purposes for your child. First, your child uses their teeth to bite, chew, speak, and smile. If they lose their baby teeth too soon, these functions can become impaired. Also, baby teeth are placeholders for their adult teeth, which can grow in crooked or misaligned if the baby teeth aren't there. Permanent teeth are more likely to come in correctly when they have healthy baby teeth to show them the way.
Why do I need to take my child to the dentist regularly?
Because your child's teeth, whether baby or permanent, are important to preserve, visiting the dentist twice a year is critical to maintaining your child's healthy smile. During these appointments, the dentist conducts a dental exam to make sure they don't already have cavities or other oral issues. By bringing your child in every six months, you can catch potential problems early while they are simple to fix instead of coming in after damage has already been done.
Your child also receives a routine cleaning at these appointments, which helps to prevent cavities in the future. Even those who diligently brush and floss can have some plaque buildup, and the hygienist has the tools and training to remove this before cavities have a chance to form.
Why is it important to establish good dental habits early with my child?
Children thrive with structure and often depend on consistency. By teaching your child from a young age to brush and floss daily and go to the dentist twice a year, you put their dental health toward the top of the priority list. They see that and respond to it. They will be more likely to continue these healthy habits into adulthood, setting them up for success for many years to come.
This February, take the opportunity to refocus on what can help keep your child's teeth from serious oral problems. Teach them proper dental maintenance so that they can enjoy a happy, healthy smile in the future. For more information about oral health, tips for oral hygiene, or children's dentistry, contact your family dentist.
About the Author
Dr. Drew Vanderbrook has been awarded the New Dentist of the Year by the Dallas County Dental Society, and he is currently working on completing his Fellowship in the Academy of General Dentistry. At Vanderbrook Family Dentistry, he and his staff offer general family, cosmetic, and restorative dental care to patients of all ages. To schedule an appointment, you can call or click here.