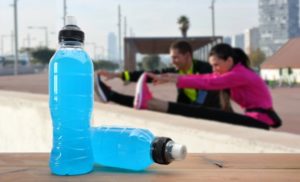 Energy and sports drinks are often advertised as healthy and great ways to stay hydrated and keep up with your busy day-to-day life, but what they don't tell you on the package is how it will impact your teeth. Typically, you consider the amount of sugar in a beverage before how acidic it is, but certain drinks with excessive amounts of citric acid are harming your mouth more than you may think. Read on to learn what recent research says about excessive consumption of sports drinks and your oral health.
Can Acidic Drinks Permanently Damage Teeth?
Today, it's difficult to keep up with the hustle and bustle of life without a boost of caffeine or energy, which is why young adults and teens frequently turn to sports and energy drinks to fuel their day. So, why do these products have such high levels of citric acid? It helps preserve their flavor and extend shelf life. Research has also shown that about 30 to 50 percent of adolescents frequently drink energy drinks as well, which can cause them big problems in the future.
A study conducted by a research group at the University of Adelaide in Australia showed that when you consume a beverage that has high levels of acidity, it can begin to erode your enamel within the first 30 seconds of coming into contact with your mouth. These findings are significant because even if you brush your teeth afterward, the permanent damage has already been caused.
What Oral Health Problems can Acidic Drinks Cause?
Adolescents and young adults often have bruxism as well as undiagnosed reflux. When combined with highly acidic drinks, your enamel has practically no chance of protecting your teeth from long-term damage. When it begins eroding, it leaves your teeth vulnerable to plaque, tartar, and harmful oral bacteria which are all known to increase your risk of developing common oral health problems such as:
Dental decay
Toothaches and infections
Cavities
Gum disease
Tooth sensitivity
Dental emergencies
How Can You Protect Your Teeth?
Protecting your teeth from damage may be easier than you think, even though the research makes it sound impossible. When you limit your consumption of certain foods and beverages, you can not only keep your teeth healthy, but also looking great by avoiding items that cause discoloration. Here are some foods and drinks that can cause drastic damage to your teeth that are best to avoid:
Sour candy– you knew candy was bad for your teeth, but sour candy has certain acids that are even tougher on your teeth.
Alcohol– known to cause dry mouth and increase the number of harmful bacteria in your mouth.
Sports, carbonated, and energy drinks– all of these are known to have high levels of acidity and can cause discoloration.
By being mindful of what you eat and drink, you can reduce your risk of developing oral health problems. Each time you pick up an energy or sports beverage, try substituting it for water instead. Also, remember to brush and floss regularly to remove sugar and harmful substances from your mouth. Schedule your semi-annual checkup and cleaning today so you can make sure acidic foods and drinks aren't unknowingly wreaking havoc on your mouth.
About the Author
Dr. Drew Vanderbrook is passionate about giving his patients the knowledge and treatment they need to maintain happy and healthy smiles for years to come. He continually advances his education so he can sharpen his skills and keep up to date with the latest advancements in his field. He has also been awarded the New Dentist of the Year award by Dallas County Dental Society for providing outstanding care to his patients. For questions or to schedule a checkup and cleaning, visit Vanderbrook Family Dentistry's website or contact 214-821-5200.