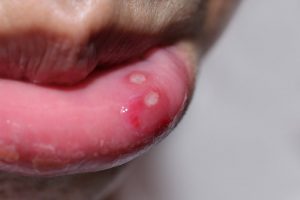 Have you ever wondered what those weird white bumps on your inner and outer lip are? They seem to appear out of nowhere, but when you have them, they get in the way of completing the most basic tasks comfortably. Tasks like chewing and even speaking can be negatively affected if you have a canker sore. That's why your dentist thought it would be worthwhile to explain what they are and how to treat the ones you have.
What are Canker Sores?
A canker sore is technically an aphthous ulcer and can come in two forms: minor and major.
Minor canker sores – These are far more common in people between the ages of 10 and 20 and typically last between 7 and 10 days. These are smaller and less painful than a major canker sore.
Major canker sores – These have more noticeable depth and irregular borders compared to minor canker sores. They are more likely to appear in a spot where a previous canker sore existed, making them recurrent canker sores. This sore is more common after the age of 20 and can last anywhere from 2 to 6 weeks.
If you notice that your child has a canker sore for longer than two weeks, make sure to visit your dentist. They may need to prescribe them medication to provide relief.
Who Gets Canker Sores?
You may be surprised to hear that only about 20 percent of the U.S. population experiences canker sores. This is because only people who are genetically predisposed to canker sores can get them. However, women are more likely to get canker sores than men because of hormonal fluctuations.
Canker sores are also more prevalent in people who often eat spicy, salty, or abrasive foods. Continuing to eat these foods while you have a canker sore will only irritate it, making it more red, swollen, and painful. Avoid these foods if you want to speed up the healing process.
How Do I Relieve Current Canker Sores?
Canker sores typically go away after a few days, but there are ways to speed up the healing process. There are a few medications available that help the healing process. We keep one of these products, Debacterol, in our office in case a patient needs relief. For those that get canker sores often, we also work with a compounding pharmacy that creates a powder that helps heal apthous ulcers. Both of these medications require prescriptions.
There are also a few products over the counter. To provide pain relief, purchase a numbing gel such as Kank-A or Orajel and follow the instructions on the bottle. To protect your mouth throughout the day, apply Milk of Magnesia a few times a day. You can also do this with baking soda and water to make a paste.
Don't let canker sores ruin your week. If your canker sore just won't go away, visit your dentist as soon as possible for more help!
About the Author
Dr. Drew Vanderbrook earned his Doctor of Dental Surgery degree from the Baylor College of Dentistry. He currently serves on the Board of Directors for the Dallas County Dental Society and is currently working to complete his Fellowship in the Academy of General Dentistry. To learn more about his practice, contact him at (214) 821-5200 or visit his website.