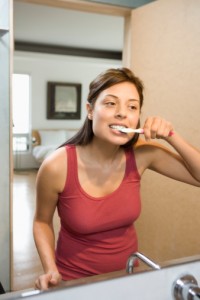 Do you practice good dental habits? If you're not sure, there's a pretty good chance that you don't. Practicing good (not acceptable) dental habits is the easiest way to keep your mouth clean and free of diseases. You like having a clean and healthy mouth, right? You can do a lot of things with a healthy mouth, like comfortably chew the foods you love, speak whenever you'd like and other actions that involve using your mouth. But, in order to keep your mouth healthy, a dental regimen incorporating fantastic dental hygiene practices is a must. Our Dallas, TX office can help you brush-up on your dental hygiene if it needs some tweaking, or we can show you the dental basics if you're unsure of what to do. Vanderbrook and Hoppe Dentistry is the dentist office Lakewood, Dallas and the surrounding communities trust.

What Does It Mean To Practice "Good" Dental Habits?
If you're confused, you're thinking too hard. "Good" dental habits aren't hard to follow. All it takes is dedication and patience. If you can spare two minutes of your time in the morning and before going to bed, you're already well on your way to practicing good habits. Now, once you've established a set time (2 minutes or a little longer), it's time to concentrate on the brushing and flossing basics.
First of all, you need to be doing both. If you aren't, we'd suggest starting right away. You need to be doing it twice a day and at two different times. We recommend once in the morning and once before going to bed, though, you're free to choose which times you like. The whole idea behind brushing is to remove plaque, foot particles and other bacteria from your teeth. So, ideally, brushing after you eat is the best practice.
Keep these brushing tips in mind:
Use the right brush. Make sure it's bristles are soft and don't irritate your gums.
Use good technique. Holding the toothbrush at a slight angle will help relieve stress on your hand.
Keep your toothbrush clean. Remember to run water over your toothbrush once you're done using it.
Replace your toothbrush every 3-4 months. Bristles get worn after repeated use, so be sure to buy a new one often.
When it comes to flossing, the same dedication applies:
Break off 18 inches of floss.
Wrap the floss around your middle fingers several times and grasp with your thumb and forefinger.
Gently insert the floss between your teeth.
Curve the floss slightly around each tooth and gently move the floss in an up and down motion.
Don't rush – one tooth at a time
By practicing these simple techniques, you're sure to see a clean mouth in no time.
Come In For A Cleaning With The Dentist Office 75214 Loves
Though brushing and flossing can help keep your mouth clean, regular cleanings are the best way to keep an eye out for possible cavities, diseases or other ailments. Our Dallas, TX office is ready to assist you. If you're looking for the best dentist Lakewood, University Park, Richardson, Garland, and Mesquite residents trust, look no further than Vanderbrook and Hoppe Dentistry.