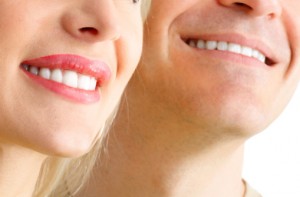 Stained, misshapen, gapped or crooked teeth can take a real toll on your life. If you're dealing with the effects of a damaged smile, you owe it to yourself to get it fixed — and porcelain veneers offer you a permanent solution for just that. Keep reading to learn more about smile enhancement with porcelain veneers in Lakewood and Dallas — your doctors at Vanderbrook and Hoppe Dentistry are committed to helping our neighbors achieve the dazzling smiles they deserve.

Porcelain Veneers Are Permanent Smile Enhancers
Because they offer an easier way to dramatically improve the appearance of damaged smiles, porcelain veneers are one of the leading treatments in cosmetic dentistry today.
Problems Fixed by Porcelain Veneers
Your doctors in Lakewood trust porcelain veneers to fix a variety of problems, like:
Discolored teeth
Teeth that are worn from years of use
Chipped or broken teeth
Misaligned, uneven or irregularly shaped teeth
Gapped teeth
Porcelain Veneers: What to Expect
Once you make the decision to enhance your smile with porcelain veneers, you can expect to have two dental appointments at Vanderbrook and Hoppe Dentistry. During your first visit, you'll get to talk one-on-one with your dentist about exactly what you hope to achieve through your tooth enhancement. Your teeth will be prepared for your porcelain veneers and fitted with temporary veneers. Your dentist will also take impressions, x-rays, photos and anything else necessary to have your veneers prepared between your first and second visits.
During your second dental visit, your porcelain veneers will be permanently bonded on, and your dentist will make any necessary last-minute adjustments. And the most exciting part — when you leave the office, you'll be walking out with a beautiful, new, permanent smile!
Benefits of Porcelain Veneers
Over and over, our patients confirm that porcelain veneers in Lakewood, 75214 offer the following advantages:
Porcelain veneers offer a natural-looking enhancement.
Porcelain veneers are completely stain-resistant.
The color and shape of porcelain veneers can be carefully selected for precise results.
Request Your Porcelain Veneers Appointment in Lakewood Today
If you agree that porcelain veneers are an excellent solution for your stained, broken, misaligned or otherwise damaged teeth, you owe it to yourself to act now. Request your appointment with the trusted dentists at Vanderbrook and Hoppe today — we're happy to serve Lakewood and Dallas with truly exceptional dental care.