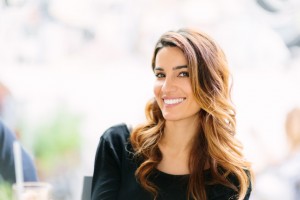 Thinking about enhancing the appearance of your smile with porcelain veneers? They're a great option for big time dental improvements. Drs. Vanderbrook and Hoppe, the cosmetic dentists in Lakewood Dallas, are here with answers to some of the most common questions regarding this fantastic treatment.
Q: What can porcelain veneers correct?
A: If you've got cosmetic issues in your front teeth, like cracked, chipped, stained or slightly misaligned teeth, porcelain veneers are a wonderful solution. Keep in mind that because they're for improving the appearance of your smile rather than its function, they're reserved for front teeth. A dental crown may be the best option for problems in the molars or back teeth.
Q: Are dental veneers reversible?
A: Traditional dental veneers are not reversible. Because the treatment involves buffing a small portion of your tooth enamel to make room for the new veneer to sit on top, you'll always need some kind of covering once you've had veneers.
Q: Will the procedure for my porcelain veneers hurt?
A: While it's a fairly simple treatment, your complete comfort is one of our main priorities. We can administer a local anaesthetic for both the preparation and final placement of your veneers to ensure you won't feel anything at all at the treatment site.
Q: Why is the treatment for veneers carried out over two visits?
A: The typical procedure for dental veneers takes two visits to your dentist's office, one for preparation and the second for final placement. The time in between is necessary for building your unique veneers. We'll send information regarding your veneers to our trusted lab after your first appointment, where an expert technician carefully crafts your permanent devices. This process usually takes about a week, but the total treatment time may vary.
Q: How should I care for my new porcelain veneers?
A: Caring for your new veneers isn't any different for caring for your natural teeth. Make sure you continue to brush for two minutes, twice a day, floss daily and visit your northeast Dallas dentist as recommended. Prevent breakage by never opening packages with your teeth (tools, not teeth!) and consider getting a nightguard if you suffer from nighttime tooth grinding, or bruxism.
More questions? Contact us today!
If you've got remaining questions regarding your porcelain veneers in Lakewood Dallas, or if you're interested in setting up an appointment to learn how your smile can benefit from this transformative solution, please don't wait to get in touch with Vanderbrook and Hoppe Dentistry.
Contact us today — we can't wait to see your smile!