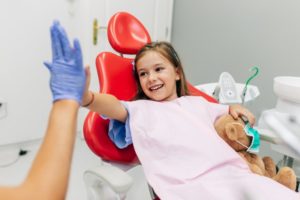 Not many children are thrilled about going to the dentist. However, if your son or daughter gets extremely anxious about dental work, getting a regular checkup or simple filling can be an overwhelming experience for you both. On the other hand, pleasant dental appointments can encourage your child to continue taking care of their oral health for years to come. Read on to find out how your Lakewood Dallas sedation dentist can help keep your little one safe and calm while caring for their precious smile.
What Is Sedation Dentistry?
Safe sedation dentistry involves using antianxiety medication to help a patient feel as comfortable and relaxed as possible throughout their treatment. Your Lakewood Dallas dentist offers two main options depending on the unique needs of each patient, including:
Nitrous oxide: This is the lightest form of sedation dentistry. It earned its nickname "laughing gas" from the euphoric, happy sensations it fosters in those who breathe it in. Your dentist can adjust how much is administered throughout the treatment to ensure you're as comfortable as possible the entire time. Nitrous oxide doesn't put patients to sleep, but allows them to feel completely at-ease. The lightheaded, somewhat silly feeling will wear off within moments of the mask being removed.
Oral sedation: For a deeper level of relaxation, oral sedation may be preferred. This method utilizes an antianxiety medication that's taken by mouth. You'll take it before your appointment and begin to feel calmer before you even arrive to the practice. Since you'll still be feeling groggy and carefree for a while after your visit, you'll need someone to drive you to and from your dentist's office. During your appointment, you'll be conscious enough to answer questions and respond to simple requests, but it's unlikely that you'll remember much of anything afterwards.
Is Sedation Dentistry Safe for Children?
When using sedation dentistry for children, dental professionals adhere to the recommendations of the American Academy of Pediatrics and the American Academy of Pediatric Dentistry. These strict guidelines take every precaution to ensure children are as safe as possible when undergoing sedation. A variety of factors are considered when choosing the proper method and dosage of sedation medication, including age, weight, and medical history. While each child needs to be evaluated individually, sedation dentistry is a safe choice for most children who are anxious about receiving dental care.
Which Children Are Good Candidates for Sedation Dentistry?
As long as your child is in good health, they may be a good candidate for sedation dentistry if they:
Are extremely fearful about visiting the dentist.
Have a strong gag reflex or sensitive teeth.
Are undergoing a lot of dental work at once.
Can't sit still for an extended period of time.
Have special needs or require extra care.
To find out if sedation dentistry is right for your son or daughter, talk to your Lakewood Dallas children's dentist. They will review your little one's unique smile and circumstances to help you determine which option is right for them.
About the Author
Dr. Drew Vanderbrook is passionate about serving smiles of all ages in Lakewood Dallas and the surrounding communities. He was inspired to pursue dentistry because of the excellent pediatric dentist he visited growing up, so he knows just how important it is for your child to feel comfortable during their appointments. He uses a compassionate approach and state-of-the-art techniques like sedation dentistry and OraVerse anesthetic to ensure your little one's visit is as pleasant as possible. If you'd like to learn more about sedation dentistry for your son or daughter, he can be contacted via his website or at (214) 821-5200.