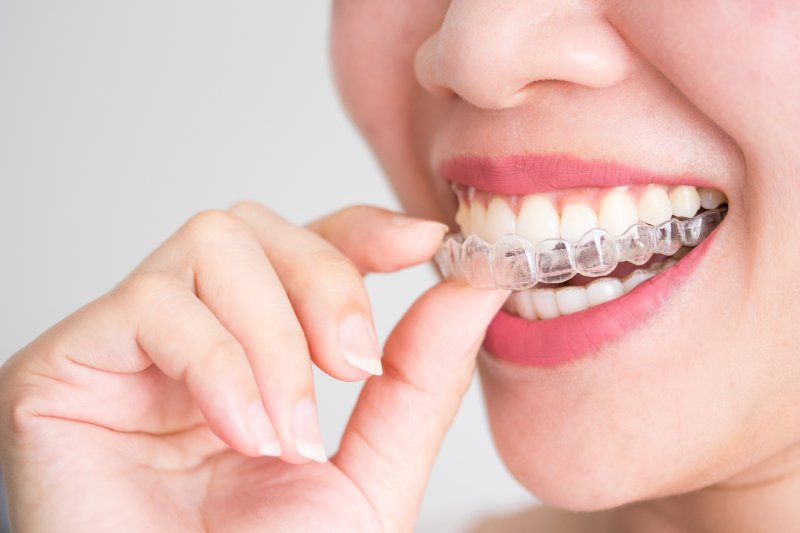 As a busy professional, choosing between traditional metal braces and clear aligners might seem like a no-brainer. A more discreet solution that can produce quicker results is a win-win situation for most adults, but if you are weighing all your options to determine which orthodontic solution will ensure better oral health and aesthetics, it's important that you be unafraid to discuss with your dental professional and get all the information you need to make a well-informed, confident decision. In this article, we will look at 4 Invisalign questions you should ask when meeting with your dentist.
1. Will Clear Aligners Affect My Speech?
When you initially start Invisalign treatment, you will notice a slight difference in your speech. Many patients develop a lisp, but it is only temporary. Because your aligners are foreign to your mouth, your tongue, lips, and teeth will need to adjust, especially since your tongue presses against the roof of your mouth and the back of your front teeth to talk. By practicing certain words and syllables, you should not expect this minor change to last longer than a week.
2. Will Anyone Notice I'm Wearing Invisalign?
One of the great benefits of Invisalign in Lakewood is that Invisalign trays are virtually undetectable. As long as you avoid foods and beverages that could stain your teeth and transfer onto your trays, your aligners will remain clear and discreet. This can be a real advantage for individuals who are working professionals or self-conscious about their appearance.
3. What Can Happen if I Don't Wear My Trays 20-22 Hours Each Day?
If you want to avoid a potential delay in treatment, you'll make sure that you're wearing your trays at least 20-22 hours each day. One of the advantages of Invisalign in Dallas is that you can remove them; however, you must be responsible enough and committed to the process to put them back in after eating, drinking, and cleaning them. If you do not, your teeth will not move as they should. Once your trays no longer fit properly, your dentist will then need to capture new impressions and have additional aligners created.
4. Will I Need to Wear a Retainer After Completing Invisalign?
Yes, you will be required to wear a retainer once you complete your Invisalign treatment. The reason for this is that your teeth will not be permanently affixed into place. It takes time for them to adjust and remain in their new location, which is why a retainer is necessary. Similar in appearance to your Invisalign trays, your retainer will hold your teeth in their new place, preventing them from shifting back into their original position. It may be necessary to wear it all the time in the beginning; however, once your dentist becomes more confident in their permanency, you may only be required to wear it at night while you sleep.
Invisalign clear aligners are a superior alternative to traditional metal braces, so if you're considering them for orthodontic treatment, don't be afraid to ask questions and do your research before starting treatment.
About the Author
Want to straighten your smile once and for all? Dr. Drew Vanderbrook can help you achieve a healthier, straighter smile in less time thanks to Invisalign clear aligners. Whether you are faced with overcrowding, gapped teeth, or a misaligned bite, these unique trays are customized to fit your smile and give you quicker results than traditional metal braces. If you're looking to improve your aesthetics and oral health, visit our website or call (214) 989-3708 to request an appointment.