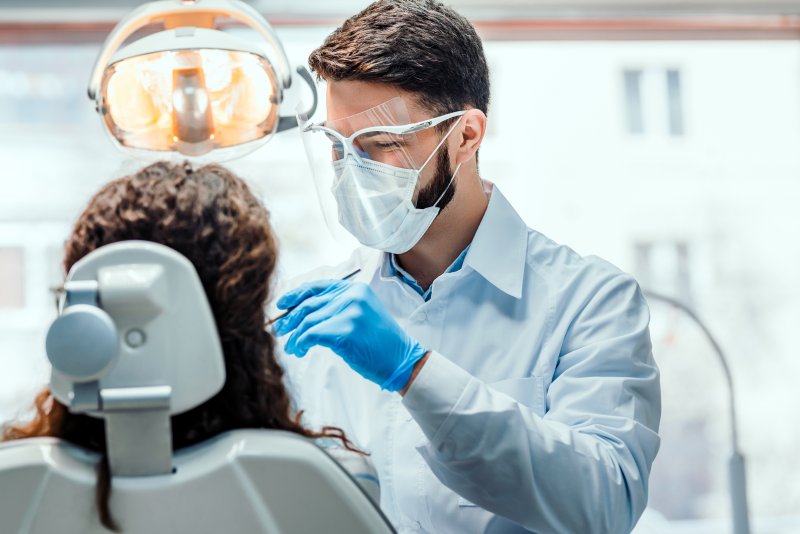 Before COVID-19, the term "personal protective equipment (PPE)," was likely only used among healthcare workers. Now, regular citizens are fully aware of what they are and why they're important in keeping the virus from spreading from person-to-person. While you might assume that it would be normal for these items to be found in a hospital or doctor's office, it should come as no surprise that they, too, are necessary when seeing your emergency dentist in Lakewood Dallas. As you prepare for your first dental appointment after the office reopens, check out the four most important PPE your dentist will be wearing to better protect both of you.
No Soiled Hands: Gloves
To perform dental procedures, administer care, and offer available treatments, a dentist's hands must be thoroughly sanitized and disinfected. They must also be covered to avoid possible contamination. This is where gloves become a crucial part of any dental professional's work attire.
When working inside a patient's mouth, it is far too easy for bacteria and germs to transfer from the patient's mouth onto the dentist's hands, especially underneath the fingernails, and vice versa. Gloves help to protect both individuals from contracting or transferring harmful pathogens and can be easily disposed of after every use.
Creating a Protective Barrier: Face Mask/Face Shield
It is highly unlikely that you've ever entered your dentist's office and seen a dental hygienist or dentist not wearing a mask while treating a patient. The reason is that this PPE is designed to prevent virus-causing bacteria from being transferred from person-to-person. Because aerosol-generating procedures are frequently performed, a face mask and/or shield can protect the dentist from any possible splashes or splatters of bodily fluids (i.e. saliva, blood).
Keeping an Eye Out: Protective Eyewear
To add another layer, don't be surprised to see your dentist wearing protective eyewear underneath their shield. Close proximity is required between dentists and their patients, which means any saliva that sprays upward during even a regular checkup and cleaning can enter the eyes. This is why patients also wear appropriate eyewear to avoid unnecessary germs and bacteria from infecting this area of the face.
Coverage From Top to Bottom: Disposable Gown
Covering the hands and face are not enough when it comes to avoiding germs. Dentists must wear a disposable gown or laundered lab coat when treating patients. The reason is that bacteria can live on more surfaces than you think. These disposable gowns make it possible to avoid pathogens from reaching a dentist's scrubs, forearms, or other exposed areas of the body.
Dental professionals across the country are taking proactive measures to keep both their patients and staff as healthy and safe as possible. In addition to the above-mentioned PPE, you may find that team members are now required to change in and out of their scrubs when arriving and before they leave work. This is just one more way your dentist is keeping your safety in mind the next time you visit.
About the Author
Dr. Drew Vanderbrook understands that right now is a worrisome time for many patients. As dental offices begin to reopen throughout the country, new protocols are being put into place to keep both staff and patients safe. He and his team want to make sure you feel confident and comfortable during your visit, which is why they will be wearing appropriate personal protective equipment (PPE). If you or a loved one are preparing for your first visit once they reopen and want to know more about the safety measures being taken, visit our website or call (214) 821-5200.