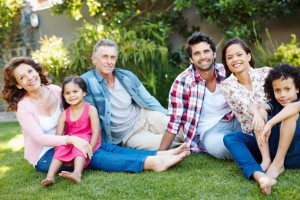 It's easy to find a dentist you want to visit once — a quick Google search is all you need. But did you know that adults and families who have a dentist they visit over and over enjoy better oral health? We think it's because when you really trust a team of dental professionals, you're more likely to schedule and maintain appointments, even when nothing's wrong. No matter your age, having a dentist to call your own is a key ingredient to maintaining a lifetime of healthy teeth.
But how do you choose which dentist is right for you and your whole family? It's not always an easy decision — especially when there are so many options, like in our community. Fortunately, we've got some tips to help you make an informed decision for your family dentist in Lakewood in 2016.
How to Choose the Best Family Dentist in Dallas: 4 Simple Steps
Keep this checklist in mind and you'll know you're making the best decision as you search for the dental practice to care for your and your family's oral health.
#1: Narrow down your location
The best dentist is one that doesn't send you all the way across town every time someone in your family needs a checkup. Focus your location on a northeast Dallas dentist, and you'll enjoy the convenience of having someone in your own community to visit.
#2: Check the dentist's credentials and experience
All dentists complete the same basic training: graduating from an accredited dental school and passing written and practical exams. What sets a good dentist apart from an excellent one is the amount of experience and continuing education they gain throughout their career. Check the practice's website to see what sort of experience your dentist has, and make sure he or she is involved in a number of dental organizations. The American Dental Society is a big one to look out for.
#3: Get a feel for the office
When you call the office to ask questions or schedule an appointment, is the receptionist friendly, or a little cold? This first impression can be a good indicator of what the practice is like. Additionally, are they willing to work with you to schedule an appointment, or are they only open at times that are inconvenient for you? Make things easy on yourself and choose a dental office that truly cares about you.
#4: Select a dentist who offers plenty of services
You may not need dental implants or want porcelain veneers right now, but you never know when you or someone in your family will — and you don't want to have to start your search anew when that day comes. Choose a dentist that offers a range of services, from general and preventive to children's and cosmetic dentistry. We know you'll eventually appreciate the ease it allows.
We're the Family Dentist Lakewood, Dallas Trusts
The team at Vanderbrook and Hoppe is confident that your search for the best family dentist in Lakewood will lead you right to our door. That's because we offer the convenient, quality care you and everyone in your family need — from the littlest smiles to the most experienced. When you're ready to experience the difference having a caring, compassionate dental team makes, contact us to book your appointment!