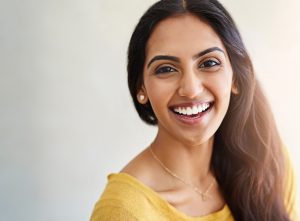 Are you tired of feeling less than attractive because of chips, cracks, gaps, and stains in your smile? It's probably time to schedule an appointment with a cosmetic dentist in Lakewood, Dallas. Dr. Drew Vanderbrook would love to help you reach your smile goals with our comprehensive cosmetic services like porcelain veneers, Invisalign clear braces, and Opalescence teeth whitening. When you decide to visit Vanderbrook Family Dentistry, you can be confident that your smile dramatically improve as well as your confidence and quality of life.
Porcelain Veneers
If you're interested in getting a quick solution to several cosmetic flaws in your smile, porcelain veneers may be the answer to your problems. Porcelain veneers are thin, lightweight shells of dental ceramic that almost resemble a fingernail. They cover the front surfaces of your teeth for a complete smile transformation.
One of the best parts of getting porcelain veneers is that they are slightly translucent and realistically blend with your natural tooth's color. Big bonus: they're are stain-resistant! If you wish to correct any of these flaws or a combination of them, you should consider visiting your cosmetic dentist in Lakewood, Dallas:
Irreversible stains
Chipped teeth
Worn teeth
Crooked teeth
Misshapen teeth
Uneven spaces and gaps
Invisalign Clear Braces
Has a crooked smile always kept you from giving a genuine, toothy smile in photos? Straightening your teeth has always been something on your to-do list, but you simply don't want to deal with the hassle of metal brackets and wires or the timely process that most orthodontists require. No worries! Dr. Vanderbrook offers a better solution: Invisalign clear braces. Here are some of the benefits you would experience with this straightening alternative compared to traditional orthodontics:
Patients with metallic allergies can still straighten their teeth.
Gently, gradual shifts teeth from a light pressure rather than painful tightening appointments with an orthodontist.
Custom fitting aligners made just for you for personalized treatment.
The aligners are practically invisible.
The aligners are removable so you can eat the foods you've always enjoyed.
Your dental routine stays the same since you can remove your aligners when it's time to complete your dental routine.
Opalescence Teeth Whitening
Achieving a brighter smile has never been easier with these two options: in-practice and at-home professional teeth whitening with Opalescence Boost. You don't have to worry about purchasing over-the-counter products that aren't nearly as effective as a doctor approved professional whitening products. Each treatment is specialized to fit your whitening goals, just watch the process here! Look at all these ways teeth whitening can benefit you and your smile.
You'll have more confidence.
Most patients tend to practice better oral hygiene habits.
You'll have a more youthful appearance.
Society correlates white smiles to friendliness and success.
Contact Vanderbrook Family Dentistry Today!
Are you excited about the different possibilities you have at your fingertips when you decide to visit our office for your cosmetic dental work? Within just a few appointments, you could have a completely different looking smile. Call our office to schedule a consultation to discuss your smile goals with Dr. Vanderbrook!