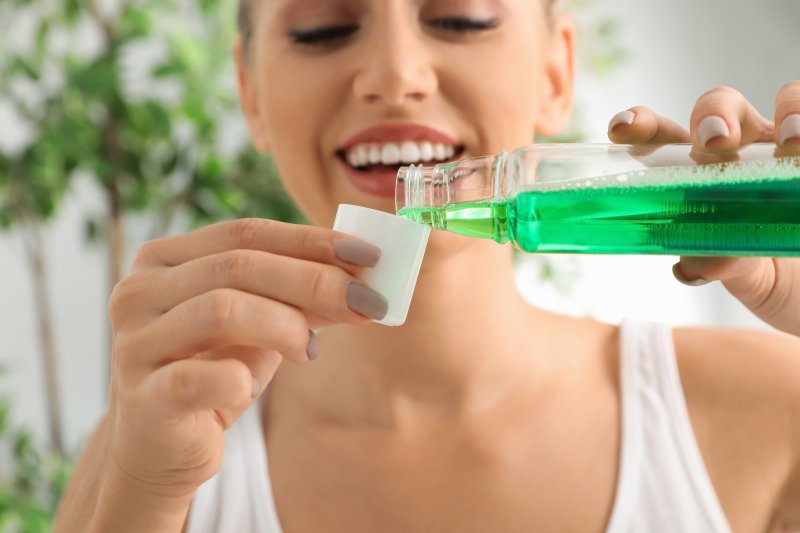 Mouthwash is a powerful oral care product that has been a staple of keeping our teeth and gums healthy since the late 1800s. So, if you only use it before an interview or first date, then you should know it can do much more than just give you minty-fresh breath. In fact, it can prevent plaque buildup and gingivitis – but it has to be used correctly! Fortunately, a dentist in Lakewood Dallas is sharing everything you need to know about mouthwash, including how much to use and how your dentist can help!
So, How Much Mouthwash Should I Use?
To enjoy the benefits of mouthwash, it is important to use the correct amount. Otherwise, it won't coat your teeth and gums sufficiently, leaving them vulnerable to cavity-causing bacteria. Therefore, make sure to always use roughly 20 ml of mouthwash, which is about four teaspoons, after brushing and flossing your teeth. For best results, use as directed twice a day.
What Age Is It Safe to Use Mouthwash?
For children, routine brushing and flossing should effectively keep their oral health in pristine condition. Therefore, it is not recommended that mouthwash be used until after 12 years of age. If your child is experiencing swelling, irritation, or frequent tooth decay, it is best to look into their dental care regimen before introducing mouthwash into their routine. If the symptoms persist, schedule an appointment with their dentist.
How Your Dentist Can Help
Your dentist can do more than check for cavities, they can provide you with a bigger picture perspective of your oral health – including where it is lacking and what improvements need to be made. At your routine appointments, they can recommend products, like antimicrobial mouthwashes, that can preserve your oral health for years to come. After all, you only see your dentist twice a year, but you are the one taking care of your teeth and gums each day. So, whether it is time for your routine visit or you would like to give your teeth some pre-holiday season TLC, make sure to schedule an appointment with your dentist for an exam and to talk about your oral care regimen!
About the Author
After graduating with honors from Texas A&M University, Dr. Drew Vanderbrook earned his Doctor of Dental Surgery at Baylor College of Dentistry. Since then, he has completed continuing education courses at the world-renowned Spear Center for Dental Excellence and has been presented the New Dentist of the Year award by Dallas County Dental Society! If you want to improve your oral health and keep your smile in tip-top shape, visit his website or give him a call at 214-821-5200 to schedule an appointment.