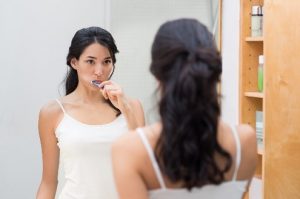 When rinsing your mouth after you have brushed your teeth, do you notice blood-tinged spit in the sink? If you are like most people, you probably do not put much thought into it. You believe that you were probably brushing too hard; however, this is rarely the case. In fact, it is a red flag that indicates a larger underlying issue—gum disease. Bleeding gums is often the first sign of an infection that can negatively impact your oral and overall health. At the first sign of blood, it is important to schedule an appointment with your dentist to fix it before it becomes a major problem.

Complications from Gum Disease
Gum disease in an infection that results from bacteria that is found in plaque and tartar accumulations, which is why oral hygiene is important. With the right home care and appointments with your dentist, it is easily preventable. Unfortunately, the Centers for Disease Control and Prevention estimates that roughly 50% of adults have a form of the infection but most do not know it.
The beginning stages of the infection can be subtle, like bleeding, red, or swollen gums. As a result, it often goes undetected and untreated, allowing it to progress in severity. Over time, the infection will begin to destroy the supporting structures of the teeth. This can lead to irreversible damage, including tooth loss. However, your mouth is not the only area to suffer from complications.
The bacteria responsible for gum disease can enter the bloodstream. As it circulates throughout the body, it will wreak havoc on your general health, increasing your risk for heart attack, respiratory disease, diabetic complications, and even Alzheimer's disease.
Protect Your Health
Gum disease is easily treatable and reversible when caught in the earliest stage, known as gingivitis. Your dentist will perform a deep cleaning to remove the plaque and tartar accumulations while helping to reduce future buildups. In addition, it is best to make changes to your home oral hygiene routine to prevent the infection from reoccurring.
Unfortunately, if you do not treat gum disease early, it will begin to destroy the supporting structures of your teeth. After this occurs, you will require costly and invasive treatments to restore your oral health. In some cases, the complications cannot be reversed, like tooth loss. You will now need an aggressive treatment plan to ward off future complications while rehabilitating the health of your teeth and gums.
Restore Your Oral Health Today
If you notice blood when you brush your teeth, do not wait until it is too late. Contact your dentist right away for treatment to protect the health and appearance of your smile.
About Dr. Drew Vanderbrook
Dr. Drew Vanderbrook received his dental degree from the Baylor College of Dentistry to provide high-quality care. Due to his experience and qualifications, he was nominated for the Texas New Dentist of the year award in 2015. Currently, he serves on the Board of Directors for Dallas County Dental Society. Due to his exceptional dental services, he will help you reach optimal oral health. If you suspect that you have gum disease, contact Vanderbrook Family Dentistry to schedule an appointment.