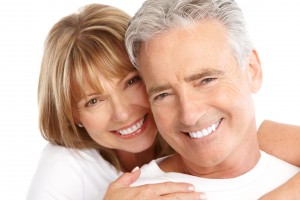 Are you tired of looking in the mirror and seeing a smile you don't like because of chipped, fractured, worn or decaying teeth? If the answer to that question is yes, then you may want to consider dental crowns. Also called dental caps, crowns are designed to fully encapsulate a damaged tooth in order to restore appearance and functionality. At the Dallas, TX, office of Vanderbrook and Hoppe Dentistry, Dr. Drew Vanderbrook and Dr. Joanne G. Hoppe create natural-looking dental crowns to give you back your beautiful smile.
Dr. Vanderbrook and Dr. Hoppe use three types of crowns: precious metal, porcelain pressed (or fused) to metal, or all-porcelain, also called all-ceramic crowns. We can help determine which option may be best for you. Moreover, with an exact color matching system, we can blend shades of porcelain until we find the one that is a match to your tooth color.
The Texas Two-Step for Dental Crowns in Lakewood and East Dallas
In most cases, Dr. Vanderbrook or Dr. Hoppe can complete the dental crown procedure in two conveniently scheduled appointments. At the first visit, the dentist will prepare the tooth to be fitted for a crown and take an impression of that tooth and the adjacent teeth. This mold is then sent to a professional dental lab where the crown is fabricated to our dentists' exacting specifications. While the permanent crown is made, you'll wear a temporary. Then in a few weeks, you'll return to the office for the second appointment when your custom-designed crown will be cemented into place.
To take care of your new dental crown, brush and floss as you do with your natural teeth. Avoid using your crown to bite down on hard objects such as nuts, ice or bones. With proper care, your crown can last for years and years.
Schedule an Appointment Today
If you would like to learn more about how a dental crown can repair your smile, then call the office of Vanderbrook and Hoppe Dentistry in Dallas, TX, today. We also serve patients from East Dallas, Lakewood, North Dallas, Richardson, Garland, and Mesquite and throughout the DFW Metroplex.