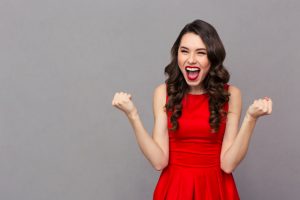 You're getting ready to send out holiday cards, so you start looking through all of your pictures for one you wouldn't mind your friends and family seeing. After an hour or so, you're unhappy with all of them. You just don't like how your teeth look. The thought of people opening an envelope and seeing your smile makes you shudder. Maybe it's time to do something about it, but what would that involve? Your cosmetic dentist in Lakewood, Dallas, Dr. Drew Vanderbrook, has just what your smile needs to look and feel its best this season.
Why Would I Want Cosmetic Dentistry?
Unfortunately, even healthy teeth are not always aesthetically pleasing. A complete smile should be healthy and beautiful. It can make you feel more confident and motivate you to be more outgoing. Your smile is one of the most important social indicators you have, and can have a big impact on how people perceive you. In a world of first impressions, you want to make the best one you can instantly. One of the easiest ways to help you do this is with cosmetic dentistry. It can fix and mask a variety of imperfections and finally give you a smile that is vibrant and will last for years.
Teeth Whitening
Years of coffee, wine, tobacco, or simple ageing can leave your teeth looking discolored and dull. Opalescence Teeth-Whitening is an easy way to turn back the clock and bring your smile back to life. It works by applying a highly-concentrated bleaching gel to your teeth and letting it break up long-standing stains. It even strengthens your teeth while doing it because the gel contains potassium nitrate and fluoride. All this can be done in around an hour, making it work for just about anyone's schedule.
We can also empower you to whiten your teeth at home by providing you with a custom tray and the potent bleaching gel. You simply need to wear the tray with the gel for 30 minutes a day for two weeks to drastically whiten your teeth. This can be used as a treatment on its own, or as a touch-up for your in-office whitening.
Fillings and Crowns
Whenever Dr. Vanderbrook repairs one of your teeth, he wants them not only to be strong, but beautiful as well. Tooth-colored fillings enable him to fix your teeth in such a way that it will seamlessly blend with the rest of your smile. The tooth-color resin also bonds to your teeth better than traditional metal-fillings, ensuring a better looking, longer-lasting result.
For teeth that need a little more repair, porcelain crowns can restore a tooth that has been damaged significantly due to decay or injury. It will look just like your other natural teeth and be just as strong and durable.
Cosmetic Bonding
One of the quickest and easiest ways to repair a variety of cosmetic issues is with cosmetic bonding. A custom-shaded composite resin will be bonded to your teeth and molded to improve their shape, size, color, and alignment. The resin is then instantly hardened using a UV light. You can have the procedure done in about an hour, and the results can last for years with regular brushing and flossing.
Porcelain Veneers
One of the most comprehensive cosmetic procedures involves porcelain veneers. The procedure itself is straightforward and painless, but the results are astounding. You can address cosmetic issues such as damaged teeth, discoloration, misalignment, and even obvious gaps in just two easy visits. Porcelain veneers are thin ceramic coverings that are securely bonded to the front of your teeth. Not only will they give you a beautiful smile, but also teeth you can rely on day to day.
Invisalign
Need to straighten your teeth but don't want to have the look or discomfort of metal braces? Invisalign gives you the best of everything when it comes to appearance, effectiveness, and comfort. It uses clear plastic aligner trays to gently and gradually straighten your teeth over time. Only you will notice that you are wearing them because the aligners are nearly invisible. Plus, they are easily removable so that you can eat and clean your teeth normally. Straighter teeth are actually easier to keep clean, ensuring your long-term health. You get all of the results of braces without any of the drawbacks.
Which Procedure is Right For Me?
The first step to getting your smile makeover is to make an appointment with your dentist in Lakewood, Dallas. That way Dr. Vanderbrook can come up with a plan just for you. You will be part of the entire process so that you know you are getting the exact results you want.  The smile you've always dreamed of is waiting to you, so please don't hesitate to call us today and start getting it.