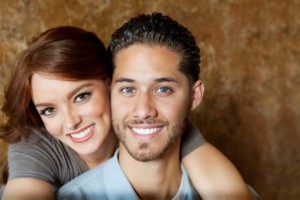 Is there a little something you'd like to fix about your smile? A chipped or slightly cracked tooth, a couple of teeth that are irregularly spaced or crooked, or teeth that are overly worn. If you see any of these when you smile in the mirror, then cosmetic bonding may be the solution. At the Dallas, TX, office of Vanderbrook and Hoppe Dentistry, Dr. Drew Vanderbrook and Dr. Joanne G. Hoppe, use cosmetic bonding to quickly and effectively create beautiful smiles.
Cosmetic Bonding in a Flash
More often than not, a cosmetic bonding procedure can be completed in just one visit to our office. Dr. Vanderbrook or Dr. Hoppe will use a composite resin and apply it directly to the tooth or your teeth that require repair. But before applying the resin, they use a special color chart to match the composite to your natural tooth color. Using a composite, the dentists can blend colors for a perfect match. In some cases, they may recommend teeth whitening before the cosmetic bonding procedure. Unlike teeth, composite resin cannot be whitened, so you'll want to make sure that your teeth are the color you desire before the bonding process.
The Cosmetic Bonding Process
Before applying composite resin, the dentist will need to prepare the tooth. Then, the composite resin is applied layer by layer. Each layer is hardened with a special curing light, and finally the dentist artfully molds and sculpts the material to the perfect shape.
Cosmetic bonding can last for years with a bit of tender loving care. Brush and floss daily, schedule regular checkups in our office, and be sure to avoid biting on hard objects such as nuts and bones, because cosmetic bonding materials can chip.
Schedule an Appointment Today
If you'd like to learn more about cosmetic bonding and how to improve your smile, call the office of Vanderbrook and Hoppe Dentistry in Dallas, TX. We conveniently serve patients from East Dallas, Lakewood, North Dallas, Richardson, Garland, and Mesquite and throughout the DFW Metroplex.