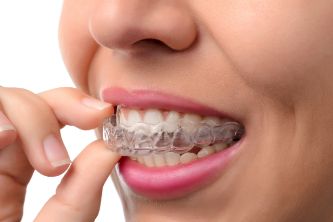 Without a doubt, Invisalign has changed the field of orthodontics forever. Since it was developed around 20 years ago, it's helped over 6 million people achieve a straight, even smile. And, with a 96% satisfaction rating, it has a proven track record of great success. If you've been thinking about Invisalign in Lakewood, keep reading for 5 of the best reasons not to wait!
1. Superior Aesthetics
This is the #1 reason people choose Invisalign over metal braces. At one time, many people (especially adults) avoided orthodontic treatment because they didn't want the embarrassment of wearing brackets and wires. Now, busy adults can straighten their teeth without anyone knowing.
2. It's a Lot Easier To Keep Your Teeth and Gums Clean
No one wants to complete their orthodontic treatment and find they've developed gum disease or major cavities. Metal brackets trap food debris, plaque and bacteria and are difficult to keep clean. Since Invisalign trays are removable, brushing and flossing will be a whole lot easier. This means your smile will not only look great but also stay much healthier as well.
3. Invisalign Usually Takes Less Time
Each person is unique and will have a different treatment plan. But, in many cases, Invisalign is completed in less time than traditional braces. In fact, the average case is finished in 9-18 months, as opposed to 18-24 months for metal braces.
4. You Can Still Eat Your Favorite Foods
With brackets and wires, you have to give up quite a few foods for the duration of your treatment. Popcorn, nuts, anything sticky, and corn on the cob are just a few examples. With Invisalign, you can eat what you'd like – as long as you remember to brush well before putting your trays back in.
5. Invisalign Is Easy To Maintain
Although you'll only be wearing each set of trays for around 2 weeks at a time, you'll have a better experience if you keep them well-maintained. Fortunately, that's easy to do. Start by getting into the habit of storing them in their protective case during meals. If you wrap them in a napkin, it's easy to accidentally throw them away.
It's also important to keep them clean, which will only add a minute or two to your oral hygiene routine. Brush them twice a day with clear liquid soap. You can also soak them in a special solution from a dentist if you wish. Finally, don't drink anything besides plain water when you're trays are in to avoid staining them or giving them an odor.
While the appeal of invisibly straightening your teeth is clear, Invisalign comes with many other significant benefits. And most people's only regret is that they didn't do it sooner!
About the Author
Dr. Drew Vanderbrook is an award-winning family dentist and a graduate of Baylor College of Dentistry. He's thrilled to offer a great alternative to metal braces and has seen firsthand how it improves his patients' oral health and self-confidence. If you're interested in Invisalign in Lakewood or have any questions, he can be reached via his website.