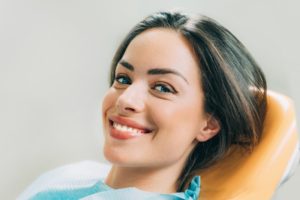 During this time of New Year's resolutions, have you made any about your health? While a dramatic change in diet or exercise is beneficial, it can be hard to follow through on. An easy and important resolution you can make regarding your health is to see your dentist routinely in 2019. These regular dental visits are not only important for your teeth and gums, but they are vital to your overall health as well. Keep reading to discover the importance of seeing your dentist at least twice in the new year.
The Link Between Your Oral and Overall Health
You may think dental visits only prevent cavities, but they actually provide a wide-range of benefits. Primarily, routine checkups can prevent more serious issues from occurring down the road. Oral cancer is often hard to see or feel, which makes cancer screenings provided by your dentist potentially life-saving.
Additionally, the work your dentist does to help combat and prevent decay and gum disease protects you from other overall health issues. Gum disease has been linked to increased risks of diabetes, stroke, cardiovascular disease, Alzheimer's, asthma, and more.
Dental Appointments and Your Oral Health
Checkups and cleanings are vital for the health of your teeth and gums. Even if you practice a great oral health routine, your dental hygienist can reach areas of your mouth that you can't. Also, if you have tartar buildup, tartar can only be removed by a professional and it's the leading cause of gum disease. Plus, hygienists are great resources for learning beneficial at-home oral healthcare tips.
Additionally, dental checkups provide your dentist with the opportunity to get an inside look at your teeth with X-Rays. These are important because they can find problems that aren't visible to the naked eye.
Dental Appointments and Your Wallet
Not only do routine visits keep your oral and overall health in tip-top shape, but they can also save you money. Preventive visits are typically covered by insurance, so if you have a dental insurance plan, these visits are a great way to use your benefits. They also prevent you from more expensive and extensive procedures in the future. That's why you should never prolong seeing your dentist. Letting a dental issue fester will only lead to more pain and money down the road.
Now that you know why it's important to see your dentist routinely, are you ready to make your resolution for 2019? Contact your dentist to get started on a healthier smile for the new year.
Meet the Dentist
Dr. Drew Vanderbrook has a passion for providing quality dental care in Dallas. He believes in patient education, which is why he wants you to know the importance of visiting the dentist. Additionally, he stays up-to-date on the latest in dentistry as he serves on the Board of Directors for Dallas County Dental Society. He currently runs his own practice, and he can be contacted through his website or by phone at (214) 821-5200 for any questions.